Slot Land is a no-download casino that is played through your web browser. Great graphics and quick play make this casino a great slot experience. They require you to submit a deposit (minimum $10) before playing however (there is no "play for fun" option).
Software used: Powered by Proprietary.
Credit Cards/Deposits accepted: Visa, Mastercard, PrePaidATM, NETeller, 900Pay or FirePay
Games offered: Golden8, HeavyMetal, Booster, TreasureBox, Magic, JacksOrBetter, WildHeart, SpaceJack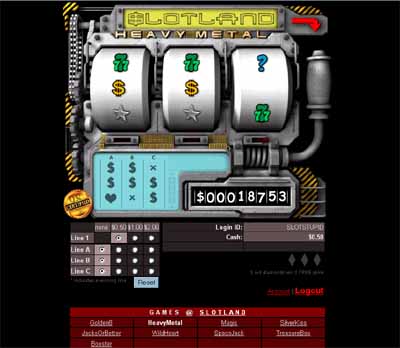 Bonuses: Register for $10 and get a FREE $10 sign-up bonus automatically = 100% Welcome bonus!

Customer Service/Tech Support:
24 hours a day, 7 days a week
info@slotland.com - general issues
billing@slotland.com - billing issues
support@slotland.com - technical problems
program@slotland.com - affiliate concerns
management@slotland.com - management


Click Here to Visit Slot Land Online Casino