A very nice slot-only casino. Lots of variety in slot games, with great graphics and easy to use software. The inital download of the software is a bit slow, but the great graphics more than make up for this one time disadvantage. If you are looking to play slots, this is the casino for you.
Software used: Powered by Oddson.
Credit Cards/Deposits accepted: Visa, Mastercard, FirePay, NETeller, PrePaidATM, Citadel, International Money Orders, Certified Checks, Bank Drafts, and Wire Transfers
Games offered: Progressive slots, five-reel slots and three-reel slots.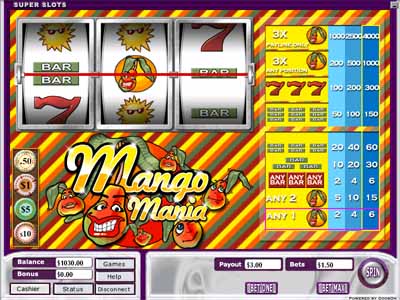 Bonus and incentive programs: Buy $50, Get $50 on your first purchase

Customer Service/Tech Support:
24 hours a day, 7 days a week
Email:
support@superslots.com
The payment system: payments@superslots.com
General account or credit card information (Virtual Exchange, our eCash processor): cashier@virtualexchange.com
Phone:
1-866-546-0451
[toll-free in North America]
1-268-481-1430
[long distance charges may apply]

Click Here to Visit Super Slots Casino